Adult Website Directories – TOP 10
Best Adult Website Directories more links equal to more authority
You've read up all about starting a porn website and you've finally decided to give it a try. Now, your website is up and running, but there's virtually no traffic coming to your site. You've done everything – created a compelling design, performed on-page SEO and started marketing your site. Still, no traffic.
You must be wondering: What is wrong with my site? Why are people not coming to visit it?
Well, the answer is simple: your backlink portfolio is bad, or even worse, non-existent. You see, for any website to rank well in the search engines, it needs to have a number of other sites pointing and linking to it.
By now, you should already understand that the backlink portfolio represents the sum of all websites and links that point to your site. More links equal more authority. More authority means higher search engine rankings.
All of this means you need to create a backlinking campaign and start reaching out to people. You need to make your website visible to the search engine algorithms and the quickest way to do that and rank up in Google is through website directories.
However, not all directories are equally good. In fact, most of them are practically useless nowadays.
Website directories – explained
In the early days of the Internet, directories had the role of the search engines. If you wanted to find something on the Internet, you would look for directories that listed out all websites within a specific niche, industry or region. If your website wasn't placed in a relevant directory, it may as well have been invisible. Unless you had a powerful brand in the real world, no one would be able to find you on the Internet.
Of course, the search engines eventually took over this role and most directories slowly died out. Even the Google and Yahoo directories were closed down a few years back. Today, directories primarily serve to pass down link juice and increase the rankings of certain websites by linking back to them.
How to find adult directories
Finding relevant adult directories to submit your website is harder than most people think. You can't really type in Adult Website Directory in Google and simply go to the first few directories that pop up on your screen. The overwhelming majority of directories is now defunct and that includes even the directories that appear on the first pages of Google.
While these directories may still show lists of websites, they are usually never updated and they owe their high rankings to one simple fact. Almost no one is creating new directories. This is especially true for directories that serve small online niches or industries. Consequently, there is no competition for ranking and the defunct directories outrank others thanks to their domain age and the links they built up while they were still functional.
All of that means it's actually very hard to find relevant directories that are still operational. Needless to say, it's crucial that the directory is updated and maintained regularly. If the directory is no longer maintained, it's practically useless for you. Google typically disregards websites that are dead, i.e. not updated, and their links. This means that they hold very little value and they can't really help you rank better in the search engines.
Now, navigating the vast sea of defunct directories is time-consuming and practically impossible. It takes hours and sometimes even days to browse through every adult directory and inspect its value. Here, you will find a list of the best adult directories to submit your website. We even included links to the submission forms to make it easy for you.
However, before we start with our list, let's explain a bit more why it's important to use website directories.
Why you should submit your website to an online directory
We already mentioned that most directories are a thing of the past. Similarly, we explained that the directories basically represent link repositories that help you rank up in the search engines. Still, we never talked about whether it's really worth your time to use website directories or why exactly you should use them.
With that in mind, we've compiled this list of the most compelling reasons to use an adult directory for your porn website.
Most directories are free to use
Yes, most website directories accept links without requesting any fees. Considering the potential benefits that the directories can provide you in terms of ranking power and traffic, it makes perfect sense to invest some time to find a great directory, like The Porn List, and submit your website.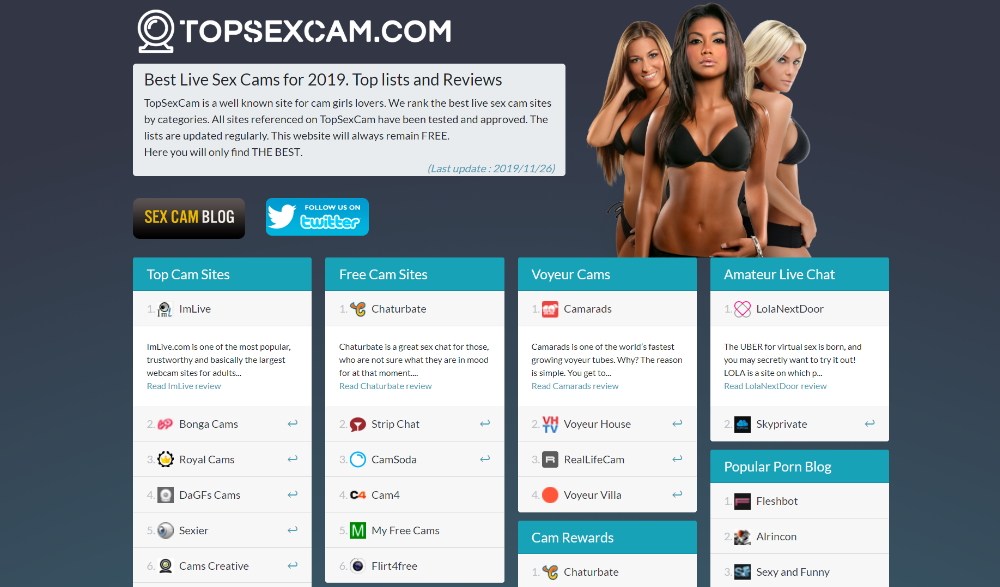 Paid directories can be extremely beneficial
Of course, there are paid directories as well. Generally speaking, these directories request a one-off payment if you want to submit your website to them.
Now, the price varies on a number of factors, including the type of link (dofollow or nofollow), the page rank and domain authority of the directory, the specific niche, etc.
Unfortunately, there isn't any concrete advice we can give you on premium directories. It all comes down to whether or not you're willing to invest in your backlinks. If you think there is a better way to invest your money, you can always opt for free directories.
However, bear in mind that paid directories usually provide higher quality links compared to free directories. This is why most webmasters combine free and paid directories to get the optimal results.
Directories help you get indexed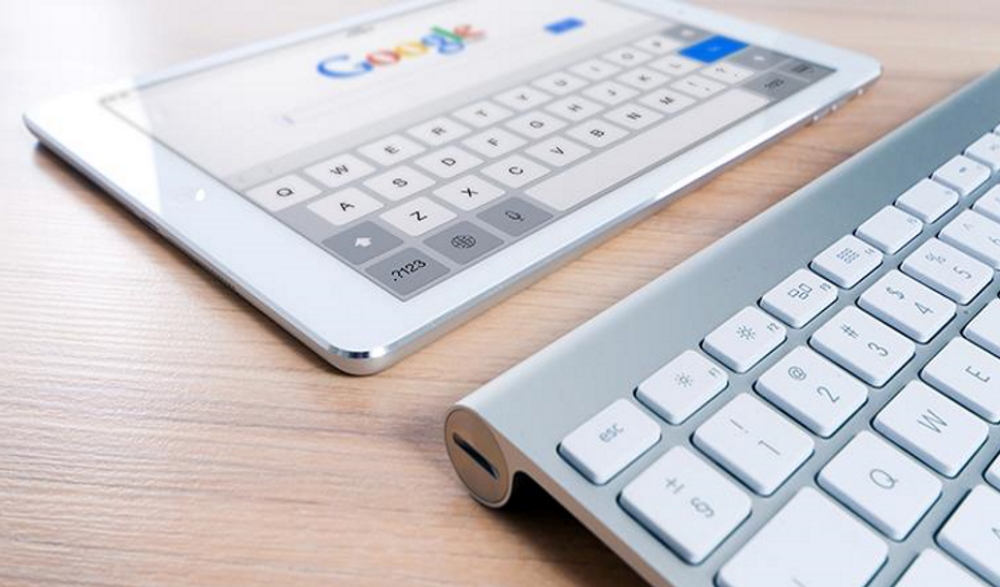 This point comes down to what we already mentioned about the importance of backlinks. Search engines like Google, Bing and Yahoo use algorithms to find all the new websites that are created on the Internet. The more often they come across your website name, the faster they will index your site.
Moreover, if your website is often associated with other sites within a specific niche, the search engines will quickly assign your site to the specific niche (adult industry, in your case) and start showing it for relevant searches.
They help you target specific keywords and phrases
This point only expands on the previous one.
Almost all directories allow you to submit your website with targeted keywords and phrases that best describe your website. This helps you associate your website with certain keywords and positions you within your niche. Ultimately, this will help you rank up for the specific keywords that you provide to the directory.
Directories are the easiest way to increase inbound links
We already mentioned this earlier in our article, but it doesn't hurt to repeat it. Directories represent the easiest way to increase the number of inbound, one-way links to your site. Of course, this is extremely beneficial in regards to your SEO. One-way links are actually more valuable than reciprocal links and they make ranking considerably easier.
However, if you use directories to build links, pay attention to the number of dofollow and nofollow links that your website has. You don't want to emphasize one type of links more than the other, as that can have severe consequences. An unnatural ratio of dofollow and nofollow links can cause Google to think that you're cheating their algorithms.
Needless to say, Google doesn't look kindly on websites that attempt to cheat it. Therefore, it's best to keep the number of dofollow and nofollow links roughly equal. 50-50 is the way to go.
Directories are a good source of traffic
Now, it's true that most directories are rarely used nowadays. However, high-quality directories can provide your website with a nice burst of initial traffic to help you kickstart your porn business. In the long run, directories provide very little traffic to websites, but if you're only starting out, adult directories can be your best source of traffic, until you start attracting organic traffic from other places.
Directory submission tools
Now that you're aware of all the benefits that adult directories can bring to your new porn website, you're probably wondering: How can I submit my website to directories? Are there any software tools that can help?
The short answer is: yes.
However, you should rarely use automated directory submission tools. If you want to achieve the best results, you need to do everything manually. Let us explain this in more detail.
You see, most tools that submit your website to directories on your behalf do it without any criteria. This means the software tool will submit your website to all sorts of directories. If you're lucky, they will all be niche-specific. However, even if they all pertain to your industry, most of them will probably be outdated or defunct.
In other words, unless you check everything manually, you can never be sure about the quality of your links and the directories that contain them.
We understand that submitting your website to adult directories on your own can be time-consuming and tiresome. That is exactly why we've created this entire article in the first place. We want to help adult webmasters launch their websites and rank more easily.
With that in mind, we have compiled the following list of the best adult directories to submit your website. We even included links to the submission forms to make everything as easy as possible for you.
So, continue reading if you want to use adult directories to help your porn site rank in the search engines.
The 10 best adult directories
Dating List
The first directory on our list is called Dating List and as its name suggests, this adult directory is primarily dedicated to the online dating niche. Here, you can submit your website for free, paid or specific niche listings.
Submit your website to Dating List by filling this form.
Tube Porn List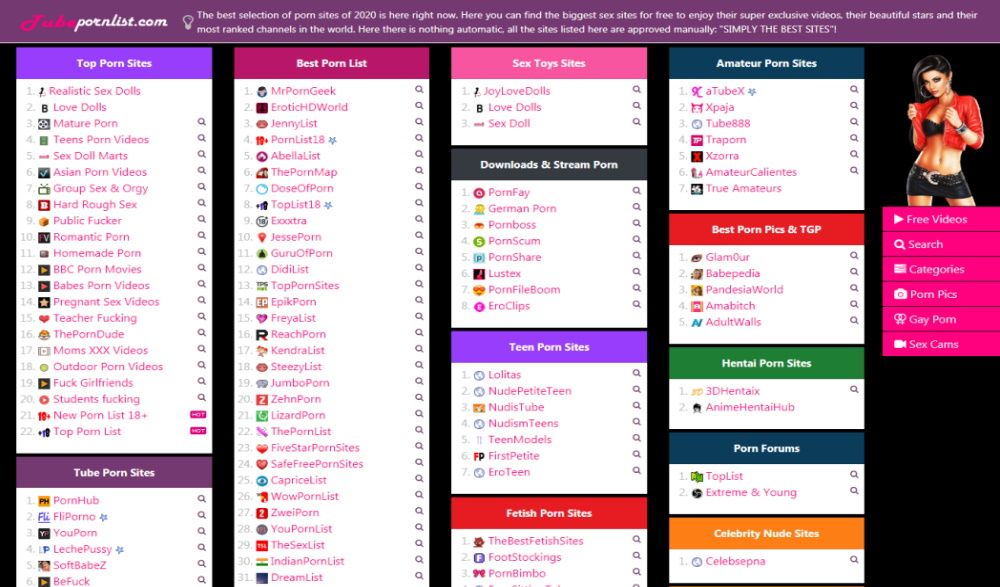 Tube Porn List is next adult directory on the list. This directory features a number of categories, and it offers a true user experience since it combines a web directory for quality adults with a section of free videos.
You can submit your website to Tube Porn List by contacting them and undergoing a review process.
Adult Linker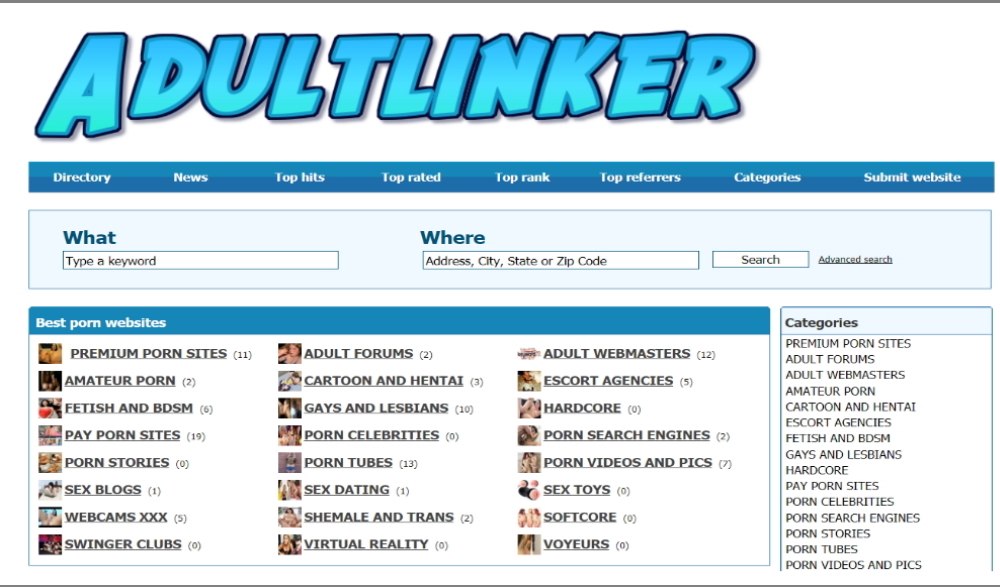 We continue our list with Adult Linker, a premium adult directory. This directory rejects around a third of the links that are submitted, so make sure to select the appropriate category and finish your website before you decide to submit it here. More often than not, Adult Linker rejects websites that are not fully created or launched.
Adult Linker sorts websites into 24 categories and currently hosts only 90 links, which means your website will benefit a lot from their link. Make sure to do all you can to get it.
Similar to the previous entries on our list, you can select a free or a privileged link from this adult directory. In any case, go here if you want to submit your website to Adult Linker.
69 Dir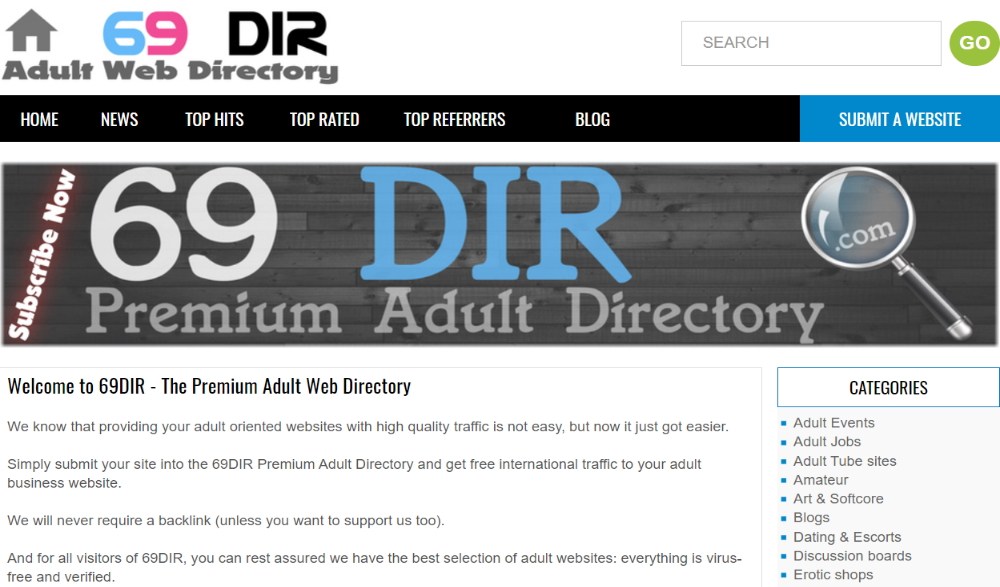 69 Dir is another great adult directory that is rather picky about the websites that they accept. In total, 69 Dir hosts 1573 porn sites spread across 25 categories and 101 keywords. However, they have rejected as many as 1784 links so far.
You can check out all their submission rules and regulations and enter your website here.
Adults Directory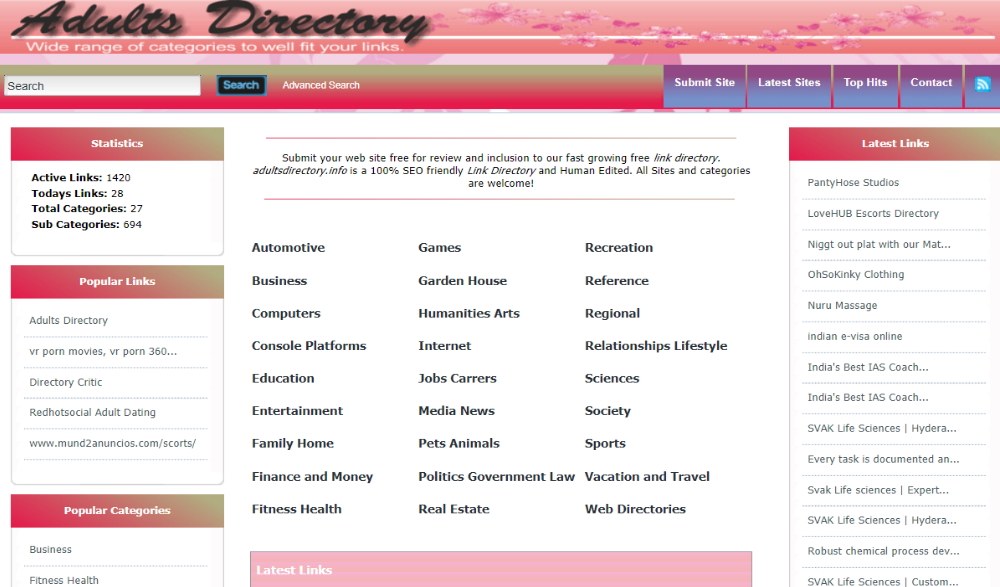 AdultsDirectory.Info is an adult directory that contains 33 links spread across 27 categories that host as many as 694 subcategories. This means that your link will have a strong influence on you, if you pick your niche, category and subcategory correctly and avoid competition.
However, it appears this directory is a bit outdated and it may not have as much effect as you would hope. In any case, click here if you want to submit your site to Adults Directory.
Adult Webmasters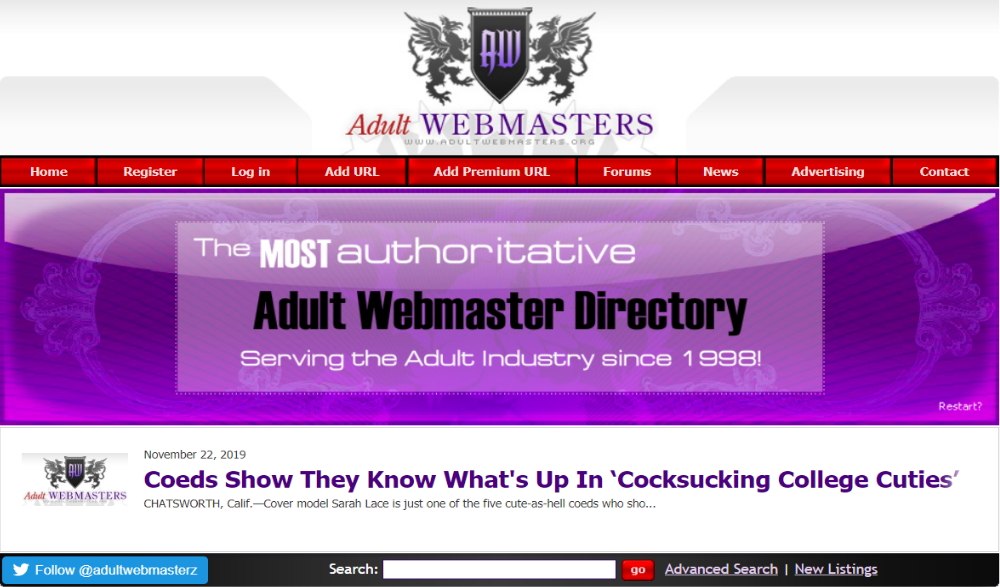 The next entry on our list of the best adult directories is Adult Webmasters. This directory is the home of hundreds and perhaps even thousands of adult website links sorted into various categories. Here, you will find everything from adult affiliate programs to adult hosting and adult payment processing. If you take a few moments to browse through their directory, you'll certainly find the right category for you, whatever it is that your website specializes in.
Similar to most other directories, Adult Webmasters offers free and paid listings. Go here if you want to submit your website for free or click here to claim a premium link.
Adult List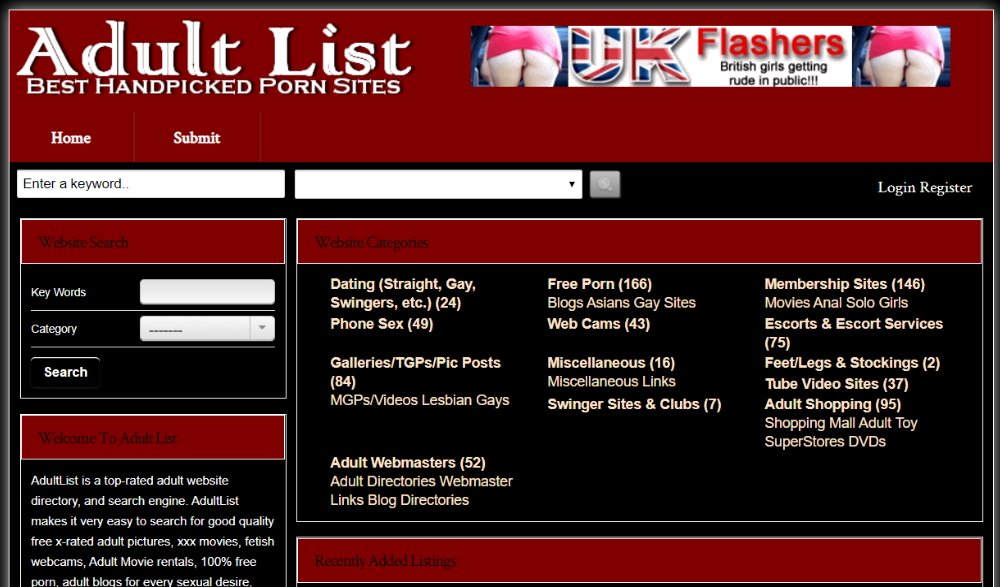 Adult List is a top-rated adult directory that pre-approves every listing that appears on their website. The directory looks a bit old, but it covers the entirety of the adult niche. In fact, it even covers the more obscure parts of the porn industry, including adult movie rentals and adult auctions, aside from the regular categories like adult escorts, dating etc.
Visit this page if you want to submit your website to Adult List. Be aware that the listings on Adult List are typically paid. Unfortunately, their exact price cannot be found anywhere on the Internet. You'll have to contact them at [email protected] for the precise information.
Mr Pink's Porn Reviews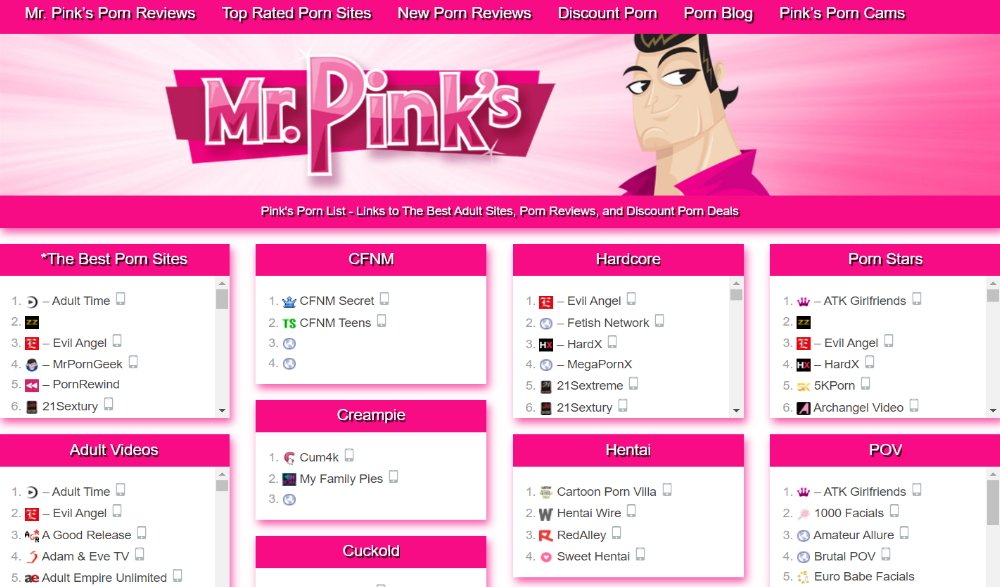 Mr Pinks Porn Reviews is a well-known directory that hosts almost 40,000 links to various adult websites, images and stories. Moreover, it has a category for everything that refers to the adult industry.
Now, given the incredible figures we mentioned in the previous paragraph, you might be thinking that everyone can get listed in this directory. However, that's far from true. The impressive number of links comes from the fact that Mr Pink's Porn Reviews is one of the oldest directories on the Internet.
They still have relatively strict rules about what website and content is allowed. You can submit your website and read more about their rules here. Similar to other adult directories, Mr Pink's Porn Reviews allows you to select between free and paid listings.
YouHo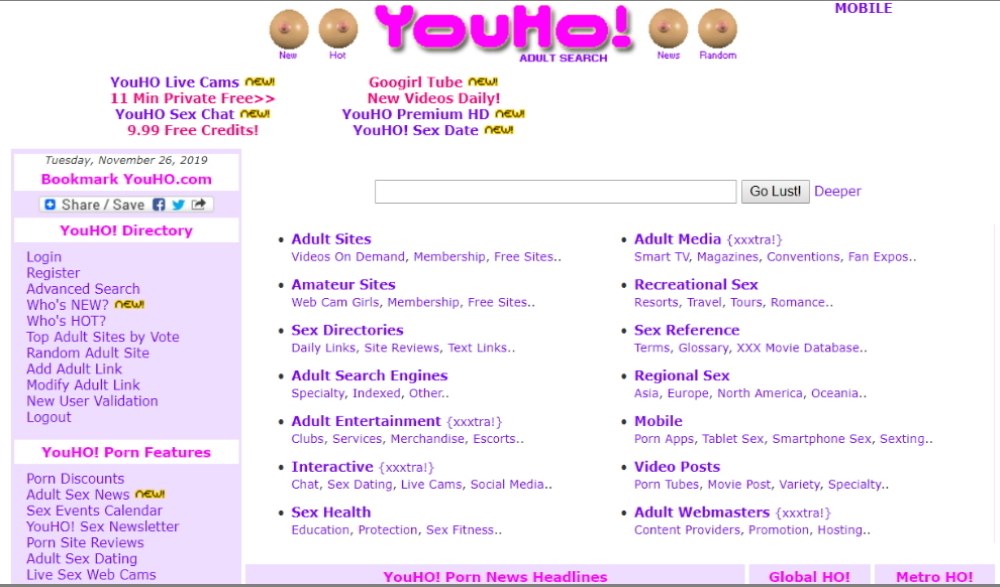 Finally, we reach the last entry on our list – You Ho. Founded in 1998, this website actually doubles down as an adult directory and a kind of a porn search engine.
You Ho covers a wide range of adult websites, and offers reciprocal and one-way (advertising) links. Of course, it goes without saying that advertising links are a premium service that requires payment. However, you will have to contact them here, if you want to find out the exact price of a premium link.
To add your website to YouHo, go to this page and register a new account.
This brings an end to our list of the best adult directories to submit your website. Now, all you need to do is follow the instructions and links provided within our article and start submitting your websites to all the directories that you can find here.
You can always come back to thank us later, when Google indexes your new links and you break into the first page of the search engine results.