Do you Sell Fetish Videos and Photos ?
Selling homemade, amateur adult content is extremely popular these days and for a good reason – it's a pretty profitable industry. But did you know that you can also make money selling adult content without taking your clothes off? If you're wondering how this is possible, we have two words for you – fetish content.
In fact, it seems that the fetish market is even more profitable than the mainstream amateur porn market. There are even people claim to earn as much as $90,000 a year just by selling fetish photos and videos. This is possible because the fetish content market allows you to sell pretty much anything you can imagine and a few things you can't begin to imagine.
Bestselling fetish content
Here, we will explain we how to sell fetish photos and videos, as well as what fetish content sells and what brings the largest profits. Let's introduce some of the most common and best-selling fetishes first.
Foot fetish
Femdom
Financial dominatrix or findomme
Farting
Face stuffing
Nose fetish
Balloon fetish
There's no need to explain what foot fetish is. Femdom is another prominent fetish, short for female dominant. This is pretty self-explanatory – people who have this fetish are aroused when dominated by a woman.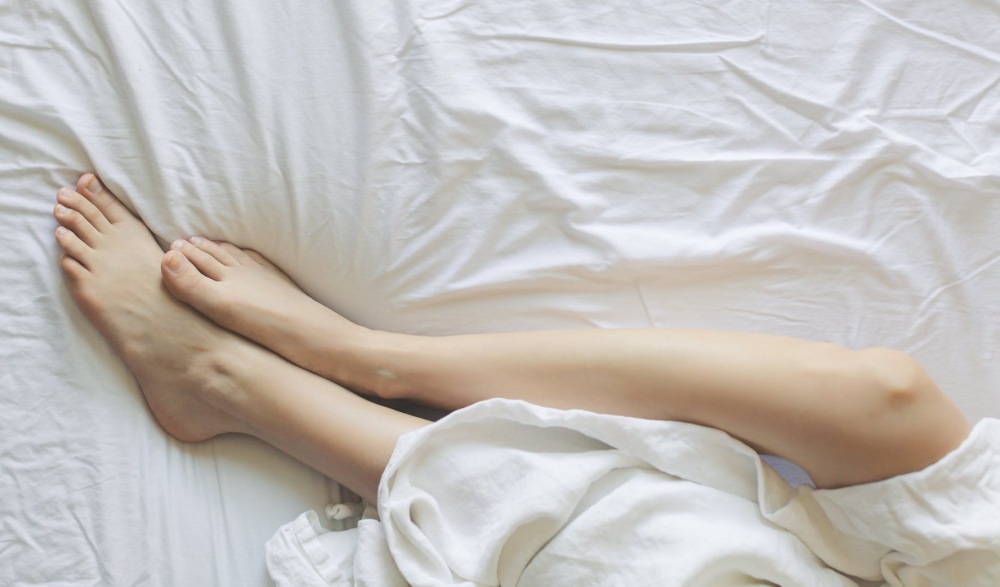 Findomme (financial dominant) is a fetish that not many people are familiar with. In short, people with the findomme fetish are aroused when a person dominates and humiliates them in exchange for money. This is another great way for girls to make money.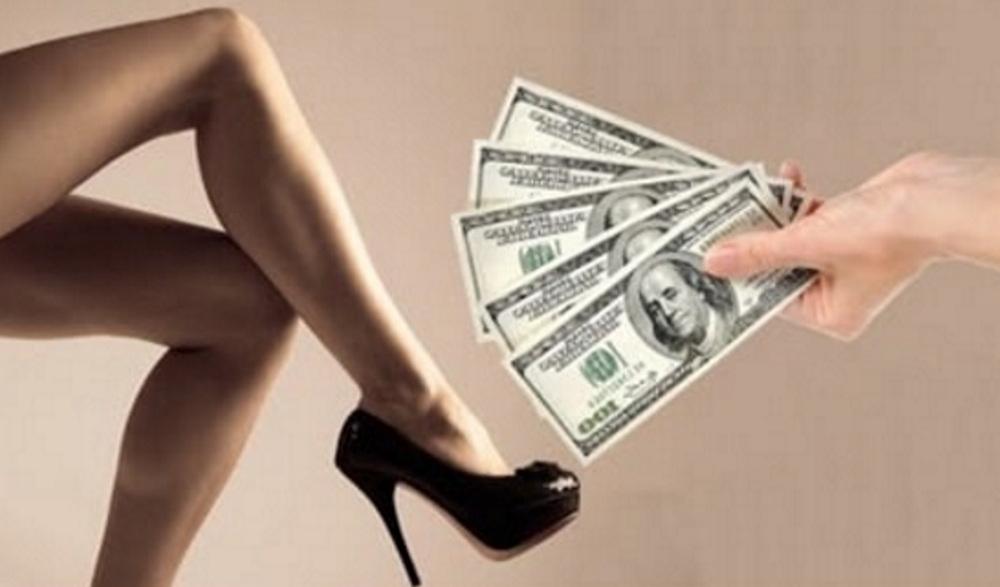 Here, the submissives are most commonly called pay pigs. They are usually male (but females can take over this role as well) and they're also referred to as money slaves. The pay pigs typically pay the findommes in cash or Amazon gifts. In certain cases, the pay pigs even offer findommes to cover their bills or beg to spend more money on them.
Farting fetish is just what you think it is – the sound and smell of a fart is arousing to some people. This category is another big hit on homemade porn sites like Clips4Sale.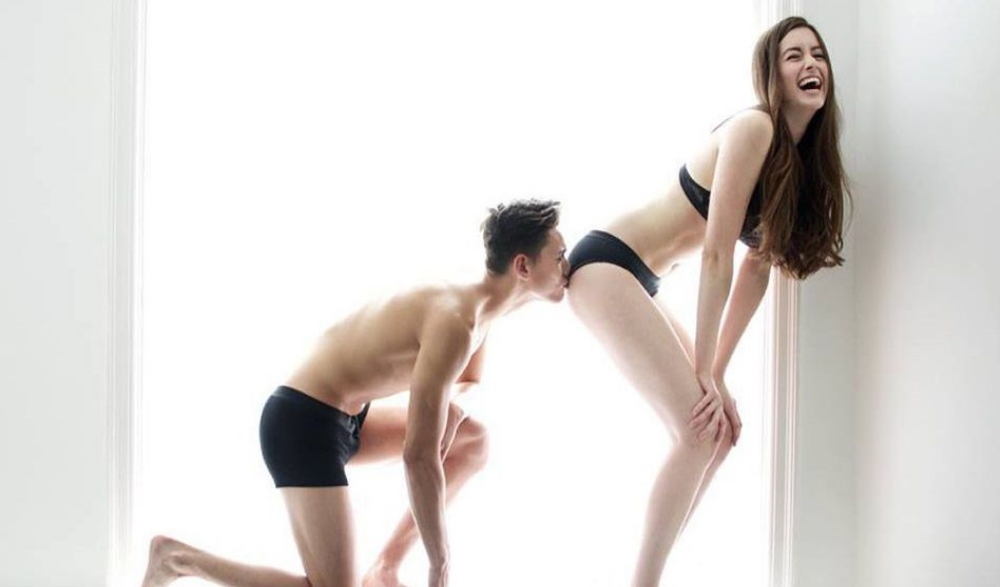 Face stuffing usually entails literally stuffing your face with food, or to be more precise, eating like a pig. The point is that you eat as much as you possibly can. Weight gaining goes hand in hand with this fetish. This means that thicker girls are more successful in this niche than slim and fit women.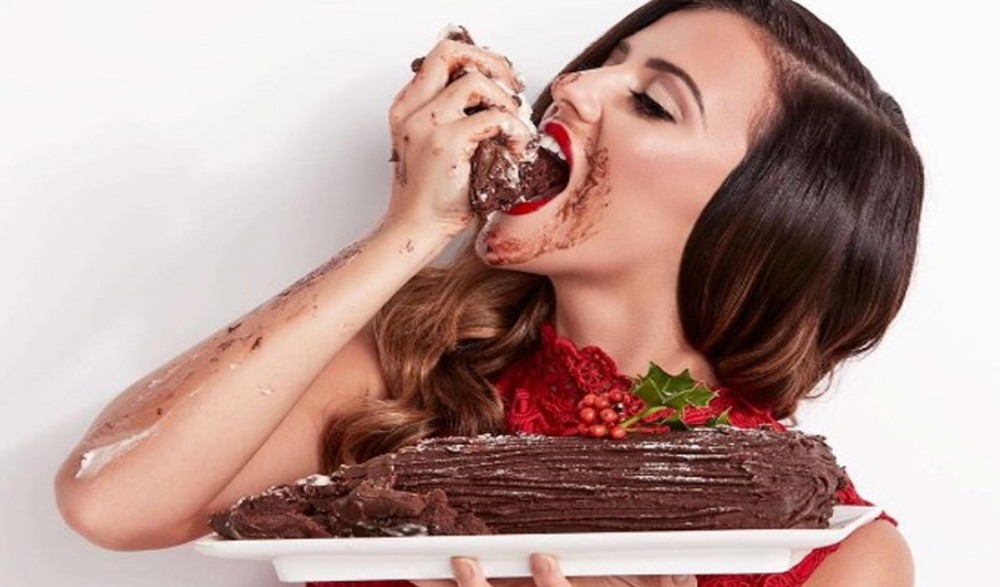 Nose fetish is a sexual attraction to noses. Some people have a preference in terms of shape and size. Some are aroused by the physical contact of a person's nose, some by stuffing things into another's nose such as their fingers, some by fantasies of penetrating the nostrils. Some are even aroused by the idea of transforming a partner's nose into, for example, a pig's snout. Closely related to this is the sneezing fetish. And believe it or not, both of these are extremely popular on Clips4Sale.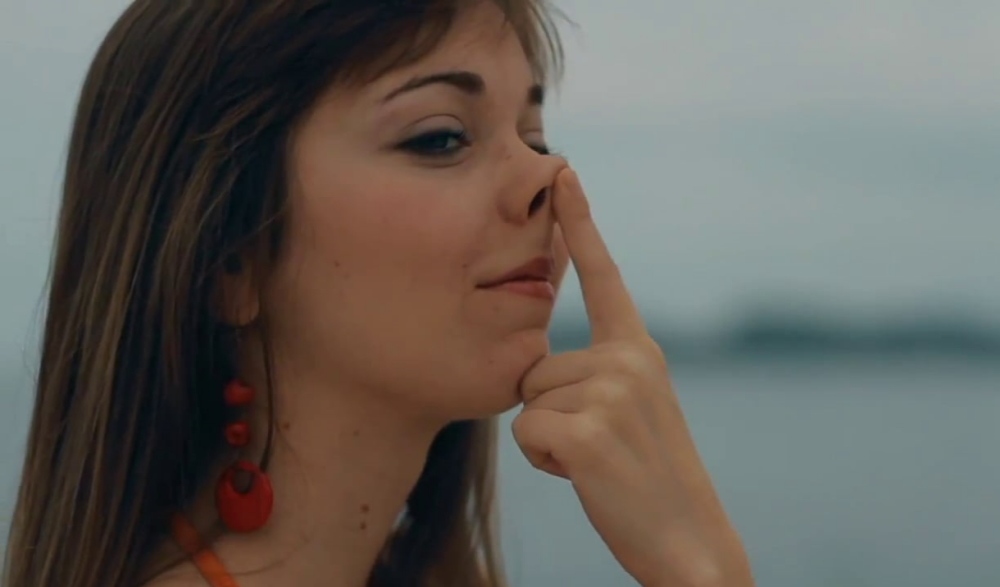 Balloon fetish is another rather unusual fetish that has its own niche and sells particularly well. It pretty much means that some people find balloons sexually arousing. This can mean masturbation with balloons arouses them, using them on their partner, or just having sex in the presence of balloons arouses them. In the case of camming, it means that people are attracted to watching girls playing with balloons, sitting around in sexy clothing around balloons, or even popping balloons.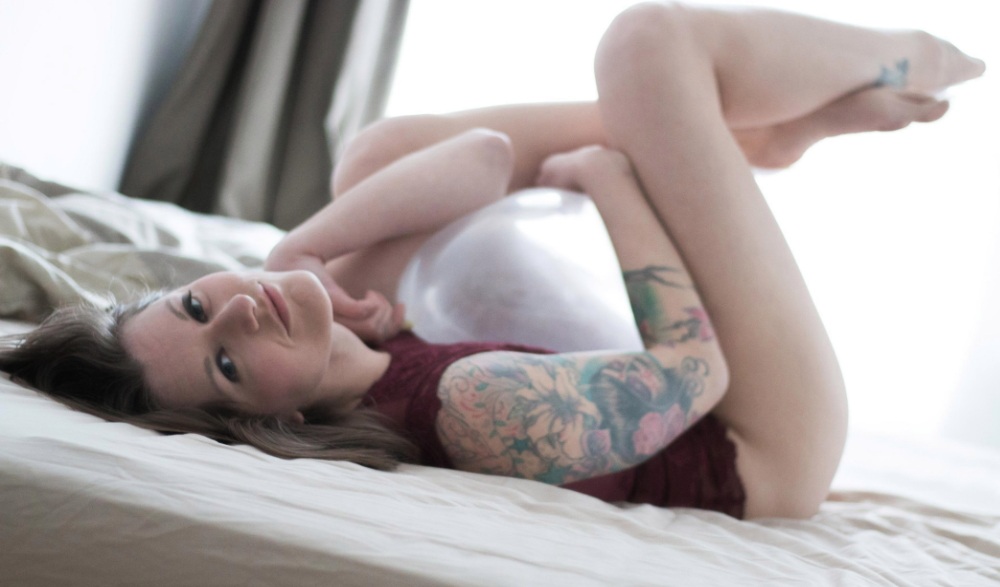 And these are just the tip of the iceberg! There are many more fetishes, such as burping, armpits fetish, vacuuming fetish… the list goes on and on.
Where can you sell fetish videos and photos?
So now that we've briefly explained the most profitable fetishes, let's deal with the platforms that you can use to sell fetish content. You can sell fetish content on almost any camming or amateur porn website. But there are two platforms where fetishes are especially successful – Clips4Sale and iWantClips.
Bear in mind that fetish content typically costs more than vanilla porn, because only a handful of people are participating in the market. Little competition always equals higher prices.
However, if you're interested in becoming a findomme, you will have to use specific platforms designed to match findommes with pay pigs. When it comes to selling foot fetish videos and photos, Instagram is your best bet. We will cover all of this in greater detail later in our article.
Amateur porn and fetish platforms
YooGirls
Payment frequency: Monthly, on the 10th of the month
Payment minimum: You can set your own minimum anywhere between €150 and €10,000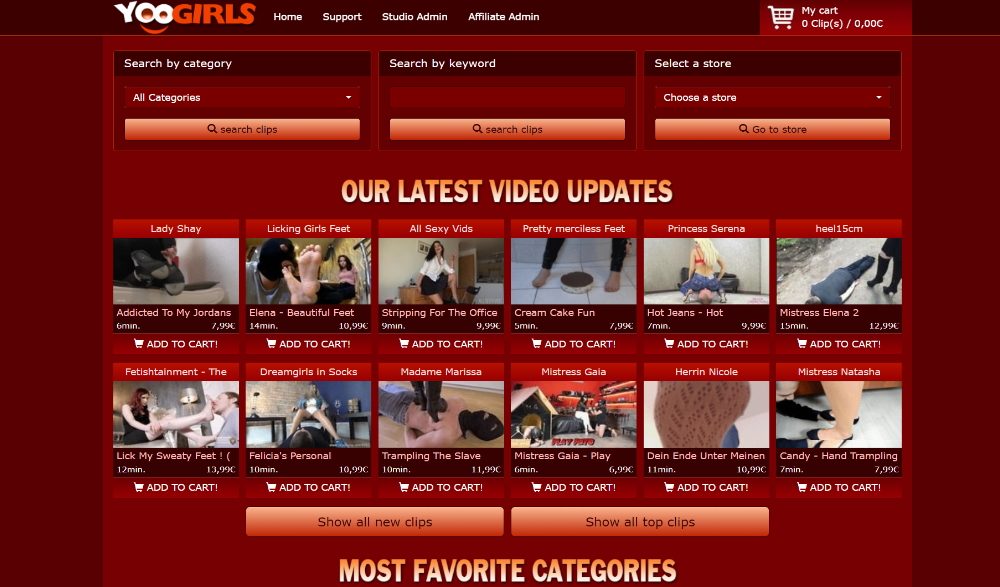 Although YooGirls allows you to sell all kinds of kinky stuff, this is mainly a fetish and femdom platform. It's not quite as popular as the others on our list, but it's a good place to start. YooGirls is particularly popular in Germany, so you'll find lots of German clients on here.
The most popular fetishes on this site include foot fetish, BBW, femdom, socks, findomme, humiliation, and masturbation instructions.
It's important to note that YooGirls does not allow nudity or any kind of hardcore material. If you're not comfortable taking your clothes, but you still want to earn money from fetishes, this website should be your go-to option.
When it comes to prices, the price for a 1-minute clip ranges from €0.99 to €3, depending on the type of fetish and the model's popularity. Additionally, when you create your own store, you can allow you customers to pay you a tribute. They can either pay you one of the pre-set amounts – €10, €25, €50, €100, €250, and €500, or they can pay you a custom amount of money. In the end, you get 60% of all your sales.
Clips4Sale
Payment methods: Check or bank wire transfer
Payment frequency: Monthly, on the 7th of the month
Payment minimum: $50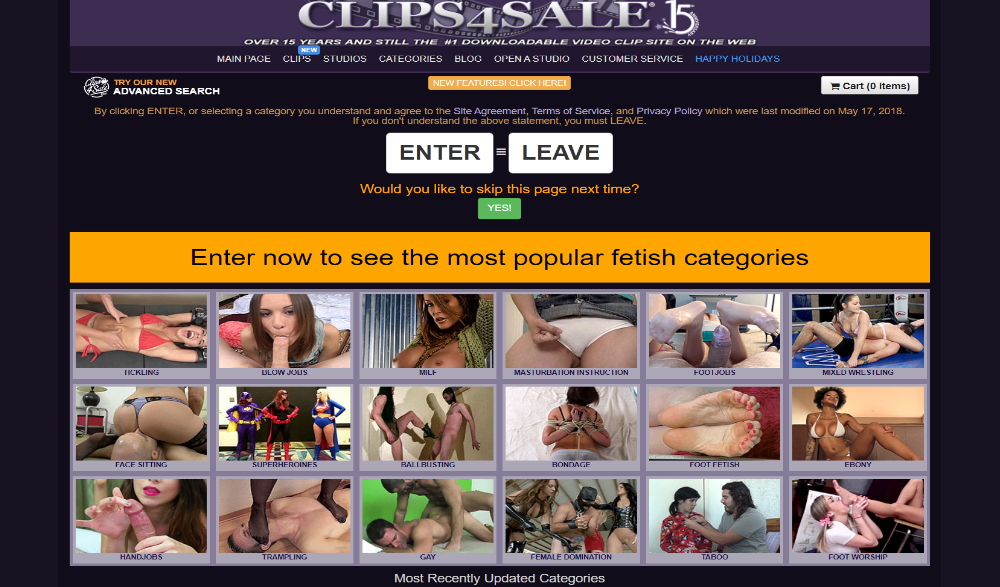 Clips4Sale is a site that contains all sorts of fetish content. In fact, there's something for every imaginable fetish here. Clips4Sale is also one of the best amateur platforms that allows you to sell fetish videos and photos.
Here, your prices depend on the length of the video, quality, your popularity and type of fetish. Typically, prices range from $4 to $6 for a 5-minute clip. This doesn't sound like much, but bear in mind that Clips4Sale is basically a fetish platform on its own.
Despite its relatively modest pricing, Clips4Sale is probably the best place to get started.
iWantClips
Payment methods: Check, bank wire transfer, or direct ACH deposit
Payment frequency: Per request, daily, bi-monthly, or monthly
Payment minimum: US: $25 (daily), $50 (bi-monthly), $50 (monthly); International: $100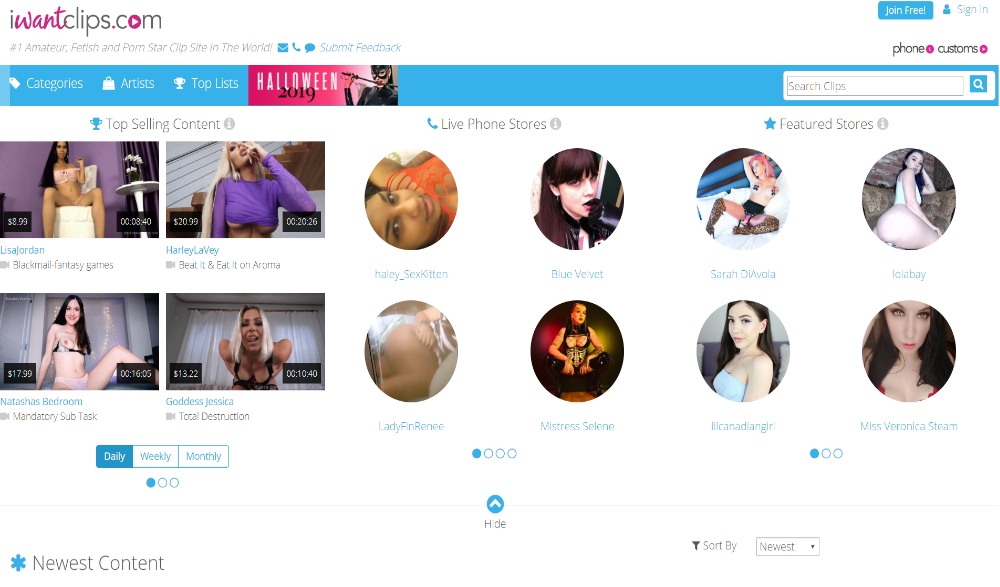 iWantClips is a much better choice for experienced fetish models. It allows you to keep a larger share of your earnings – 70%, which is slightly higher than 60%.
In addition to that, you can set considerably higher prices on iWantClips than on Clips4Sale. For example, a performer named Princess Kaelin is selling a 7-minute long clip from the femdom category for a whopping $100! Of course, Princess Kaelin is an outlier and you can't really compare yourself to her, unless you have years of experience selling fetish content.
Still, the prices of 10-minute videos range from $10 and $40, depending on the model's popularity. You'll be hard pressed to find a fetish site that pays better than this.
Fetish models typically start with Clips4Sale until they gain some popularity and gather a following. Then, they move on to iWantClips to better monetize their online presence and earn more.
FetishModels
Payment methods: Check
Payment frequency: Weekly, every Tuesday
Payment minimum: N/A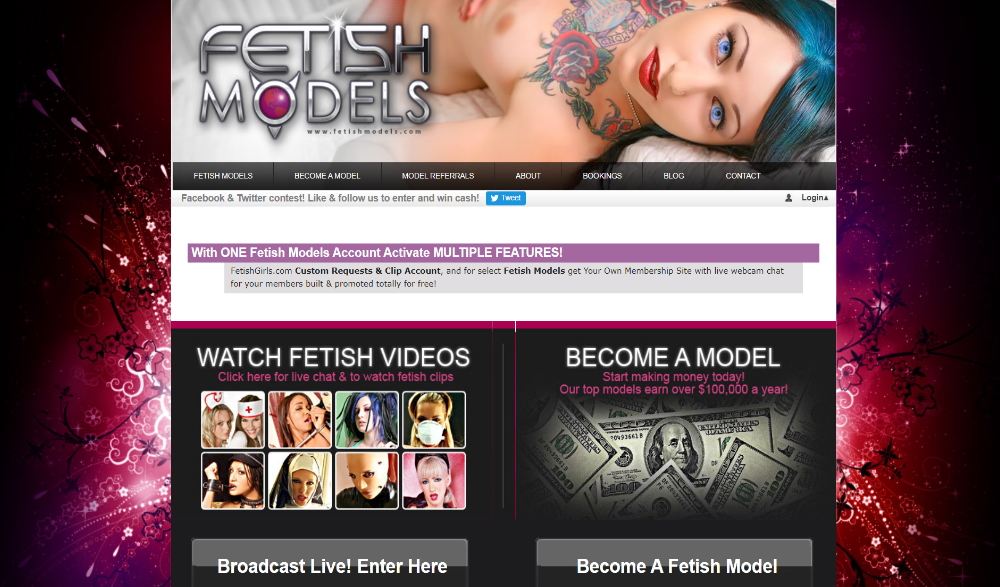 FetishModels is a unique porn platform that functions as a fetish and alternative modelling agency that will help you become a fetish model. Once you register on the platform, you get access to the entire FetishModels network that features a number of porn websites.
In particular, there are a few FetishModels websites that you can use to earn money. Namely, FetishGirls.com, AdultVideos.com, and UsedPanties.com.
The FetishGirls.com website functions as a camming platform for fetish models. It has all the same features that a regular webcam platform has, but it also allows viewers to turn on their microphones and speak to the model during the shows. Besides live cam shows, models can also create pre-recorded clips and sell them on the platform.
AdultVideos.com is a platform that allows models to post their pre-recorded videos and offer them for sale. However, AdultVideos is not strictly a fetish website – in fact, anyone can join.
Their website UsedPanties.com is a platform that is used to sell worn underwear. Here, you can sign up for free and start selling your lingerie, pictures and other types of content right away. UsedPanties.com will give you 70% of your total revenue. If you'd like to learn more about selling worn underwear, you can check our extensive guide on how to sell your used panties.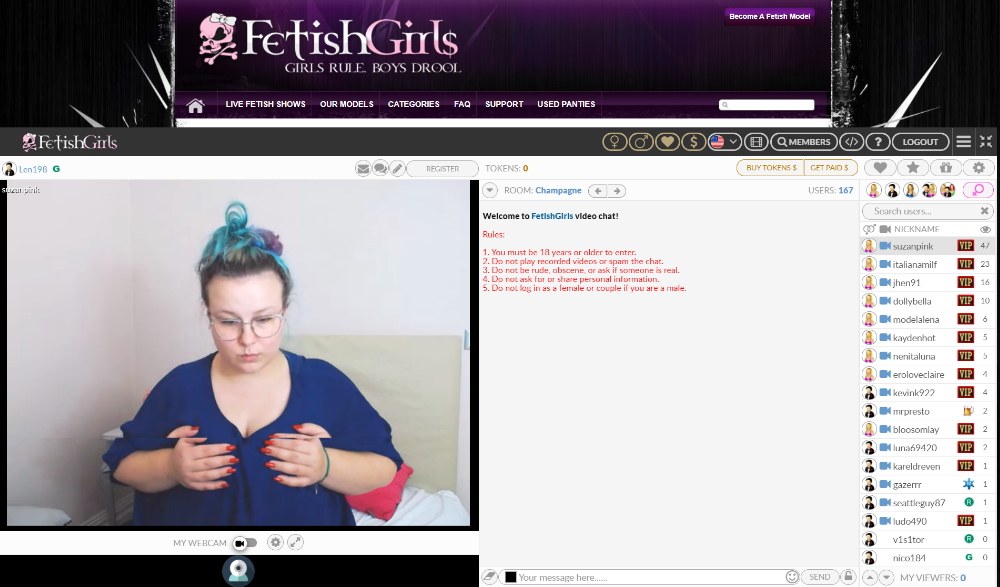 FetishModels boasts that their models make between $30 and $100 an hour, which is a decent, if unspectacular amount. The agency takes an unusually high percentage of your income – you only get 40%. That's probably because they do all marketing for you and provide you with all the basics.
On top of all that, FetishModels allows you to create your own paysite.
They'll do everything for you at no additional cost. They will host, design and market it, as well as provide customer support, and security.
In addition, you can add a bunch of features to your paysite – you can stream live cam shows, display videos or add your wish lists. However, you can't choose your own monthly subscription fee – you can only select between $24.95, $29.95, and $39.95 a month.
In return for the favour, FetishModels takes 50% of your content sales and cam show earnings. They make payments weekly, by check, PayPal, Paxum, and wire transfer.
Skype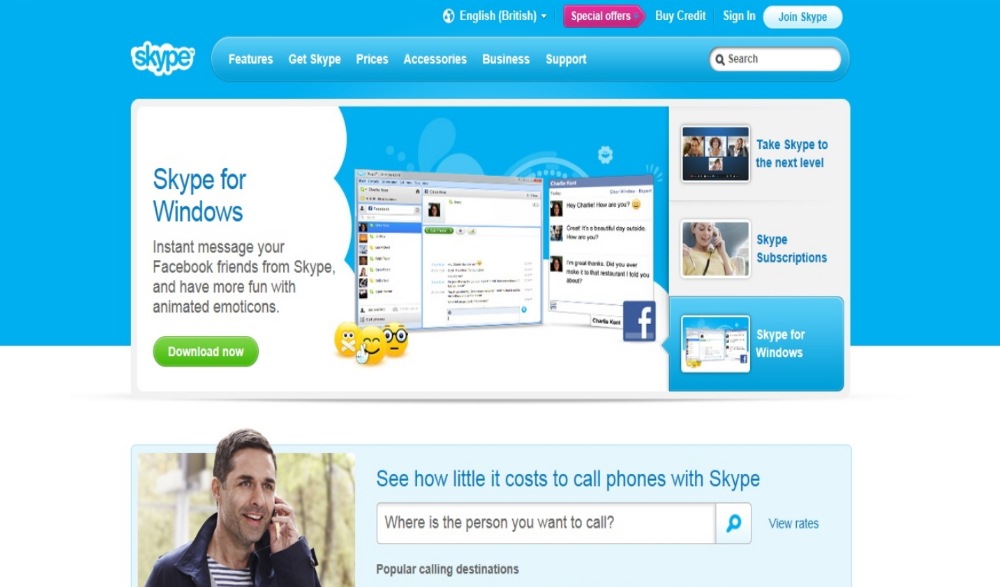 Alright, don't jump the gun just yet. Let us explain.
Skype is a viable option for fetish models that want to work independent from major porn platforms and keep most of their revenue to themselves. However, you shouldn't start using Skype until you've acquired a large fan base that enjoys your content. Once you've established yourself as a popular fetish model, you can move on to Skype and start offering private chats.
The main advantage of Skype lies in the fact that you can charge a lot more money here than anywhere else on the Internet. For example, you can ask for as much as $20 per minute on Skype. If you know how to keep your customers interested and keep them on the line, you can earn thousands of dollars per day.
Findomme websites
This category is dedicated to porn websites that specialize in the findomme fetish.
Now, findomme is particularly attractive because there's virtually no limit on how much you can earn from it. There are also no fixed rates – no pay-per-minute or hourly rates. How much you can earn depends only on how well you can dominate your sub.
So, it's not unusual for women to make more than $50,000 a year from findomme, excluding gifts. Gifts can include anything from rent and bills to luxury items such as clothing, shoes, bags, jewellery.
Continue reading to find the best findomme platforms.
Duno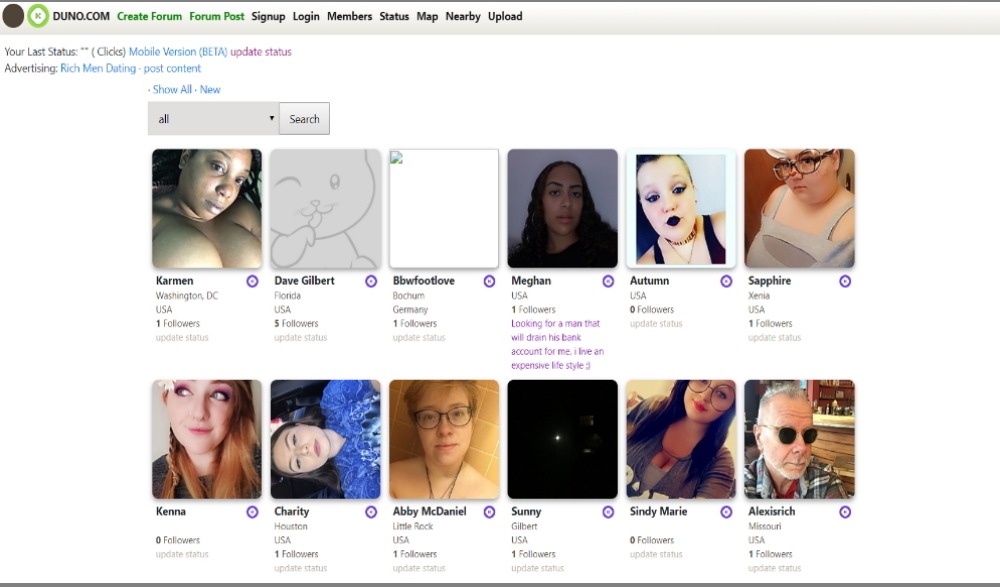 Duno is a website that allows findommes and pay pigs post their ads. For example, girls typically post ads that go something like: My bills won't pay themselves.
However, it appears this website is past its best. It's no longer popular and you can see that just by taking a look at the views count on the ads. It won't hurt to post an ad here, but Duno should never be your primary source of income.
HePays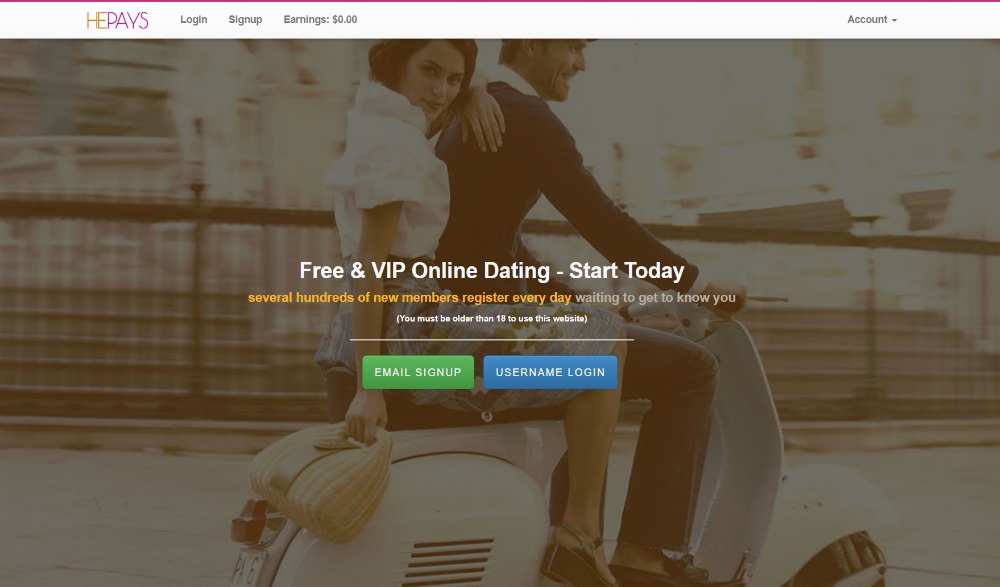 HePays is a dating website for findommes and pay pigs. All you need to do is register, create your own profile and start looking for submissives. The website is fairly popular and has an estimated 100,000 members.
What's interesting about HePays is that women can set a contact amount minimum. So for example, if you set your minimum to $50 people who have less than that in their account can't contact you. This system was implemented to ensure that you're not contacted by cheap people and those unwilling to pay.
Another great feature of this website is that there's a voting system that lets you collect trust points. The more trust points you have and the higher your trust status, the more people will contact you.
This website is suitable for both findommes and sugar babies, depending on what you want. You can either look for pay pigs from your town that you will meet in person, or choose to only communicate virtually.
Findom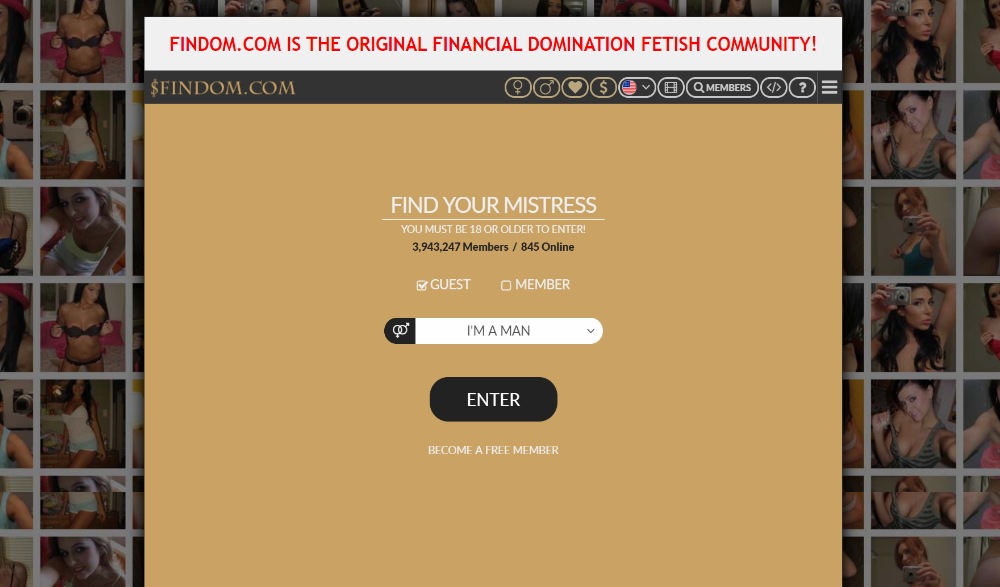 Findom is one of the oldest findomme platforms, as well as one of the biggest, with its 3.5 million members. They claim to be the original financial domination community where money slaves can meet findommes.
As they state on their website, they combine random video chats with social networking, where people can flirt and invite each other to a private chat room. So how does getting paid on this website work?
As Findom states: First, a sub shows interest in a findom by paying her a tribute (spontaneous offerings). Then, the domme interview the sub and potential pay pig to see if she wants to take him on and to see what kind of relationship he wants.
As a findomme, you can receive tokens from subs and later be paid out, depending on your token count. One token is worth $0.09. You can collect tokens by either getting them as gifts or tributes from your subs or by charging them for a private chat so that they're billed automatically. On Findom, you get as much as 70% of your revenue.
All of these findomme websites are great for meeting potential pay pigs, but that doesn't mean that you have to communicate through them. One of the best ways to communicate with your subs is via Skype. So, make sure to exchange your Skype usernames as well.
Foot fetish and Instagram
If you're already selling photos and videos of your feet on amateur porn and fetish platforms, but want to make even more money with it, then Instagram's the way to go. It may be surprising to hear it, but Instagram has perhaps the largest foot fetish market.
Now, people usually sell their foot fetish content on Instagram using two types of accounts: private and public.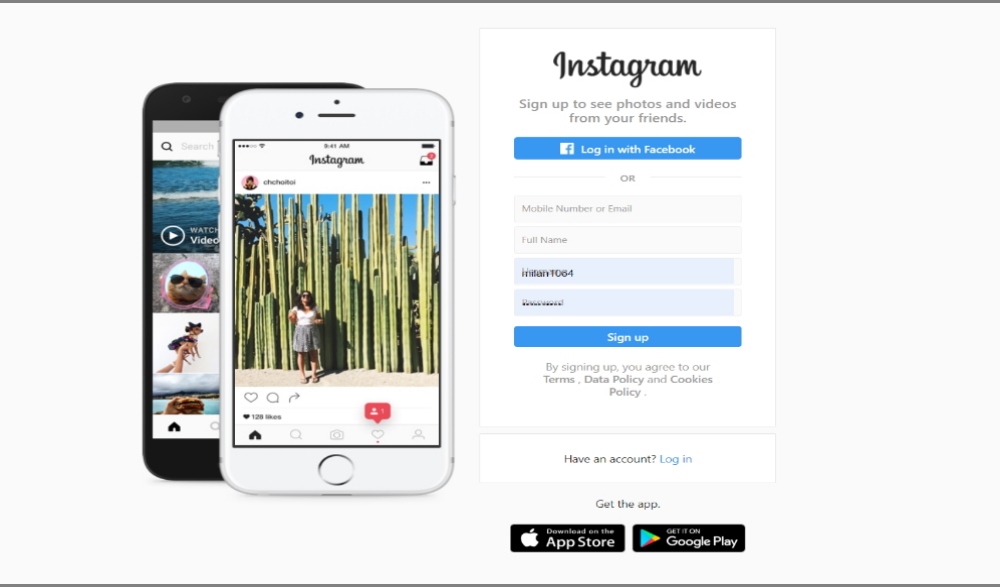 People with private accounts run a subscription-based program, which requires you to pay a certain amount to have your follow request accepted. However, this is not a widespread practice.
By far, the largest percentage of people use public accounts and post public photos of their feet, as a certain advertisement of their content. Typically, girls make money by accepting customer content requests from their followers.
Now, there's no precise information about the amount of money you can make this way. However, certain models boast of earning as much as $90,000 per year through Instagram sales alone.
Of course, to get anywhere close to this number, you will need to have a large follower count and publish content regularly. If you're only starting out, you need to be realistic. You will earn a fraction of that amount.
New foot fetish models usually earn $5-$10 a photo. As far as videos go, you can charge between $100 and $200 per hour. However, most videos last between three and ten minutes. Realistically, you can expect to earn between $5 and $35 per video video.To help you get started, here are a few tips for selling foot fetish content on Instagram:
Post photos at least once a day
Use hashtags
Include your information in the profile bio (this means: shoe size, email, payment info and even an Amazon wish list)
Instagram is the way to go if you want to sell foot photos and videos. But you can also utilize other social media networks to promote yourself. Primarily, you can use Twitter, Tumblr, Reddit, and Snapchat to improve your visibility on the Internet.
Twitter is probably the most popular social network for people working in the sex industry. This is because Twitter posts no restrictions on adult content and you can pretty much do anything you want here. And that includes fetish content as well.
However, bear in mind that you will have to arrange content delivery and payments outside of Twitter. This social network can get you plenty of new customers, but you will have to redirect them elsewhere to make money.
The next social network you should be using is Tumblr. This is pretty simple – Tumblr allows you to create your own personal blog. Your blog will be your main channel of communication with potential customers, so make sure to post photos, short clips, gifs, and sneak peaks.
Let's not forget Reddit as a great platform to promote yourself and your content. Here, you should search for threads related to your specific fetish. For example, if you choose to sell feet photos and videos, head over to /r/feet and post some photos of your feet.
The people who like your photo will visit your profile, where you can add your Instagram and Snapchat usernames. That way, people who like you can see more of you and ultimately, buy your photos and videos.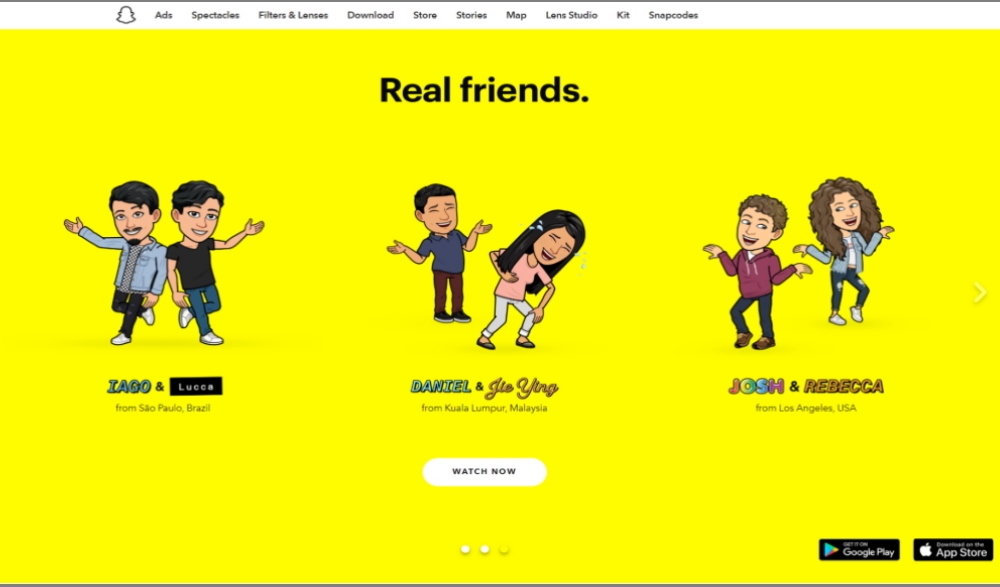 A lot of camgirls use Snapchat to promote themselves and their shows, but they also use it to sell nude photos and videos. Well, fetish models can use it the same way.
In addition to making a public Snapchat account that you will use for promotion, you can also make a premium Snapchat account. This is basically a private account that contains premium, gated content. If someone wants to follow that account, they will first need to pay a monthly subscription fee that typically ranges from $30 to $40.
Useful links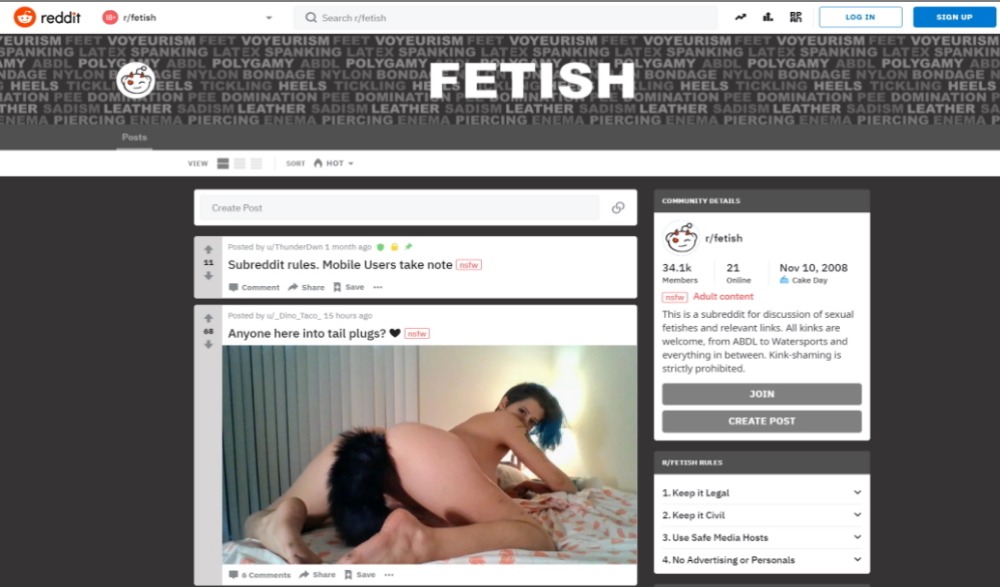 Lastly, we want to mention a few useful Facebook groups and Reddit threads related to the fetishes that we mentioned above. If used properly, these groups and threads will be your best chance to become a part of the fetish community. In case you have any questions about the fetishes, don't hesitate to ask. These groups are always welcoming new members.